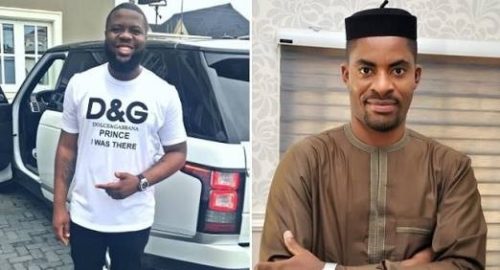 Activist and former PDP director of New Media, Deji Adeyanju has called on EFCC to investigate Nigerian big boy, Hushpuppi. This comes after the raid in a club in Lagos that led to the arrest of 13 suspected Yahoo boys.
Deji said:
I want to commend EFCC for this good job. More work needs to be done in this regard. There are more yahoo boys in Abuja. And another reminder. There's this guy called Hush Puppy or something like that. Look into it.
Big boy that claims to be a big boy without any source of livelihood and can't prove his source of income is a Yahoo Boy. ARREST ALL OF THEM
We all go to clubs and see the nonsense those Yahoo Boys do. They buy Champaign running into millions of Naira and they pour on wrist watches, etc. No one who works hard for money including Dangote will do some of those things. EFCC has done very well on this. I commend them.
Nobody says you are a Yahoo Boy. Whatever makes anyone run away from a Club and abandons his car means he or she has a lot to hide. The guilty are always AFRAID but the righteous are as bold as a lion.
It is so easy to know a thief when you see one. They are largely irresponsible people who have no VALUE for money.
When you see someone who has worked hard to make N1billion and someone who stole N100million, you will know the difference from their behavior. Those who don't have value for MONEY are largely thieves.
EFCC should go to more clubs to arrest more Yahoo boys. I support this line of action. From Quilox to Cubana and all, arrest them all. Only the guilty will run if EFCC comes to make an arrest in a club. Imagine EFCC meeting me in a club, they will even greet me good evening sir.
You can imagine people criticizing EFCC for raiding the Night Club. I even hear most of these clubs pay Police and EFCC off because they don't want to be raided because when the raids happen, it's BAD MARKET for the clubs. God Corruption everywhere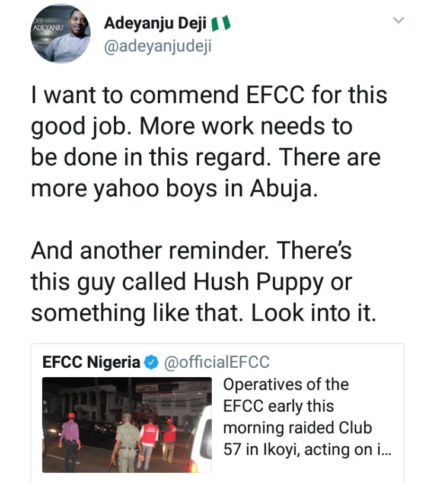 Read Also: "EFCC Arrest Hushpuppi" – Deji Adeyanju, #OurMumuDonDo Protesters
In his words  'Hushpuppi is just a 419, he flies private jets and EFCC is not doing anything about it'.
Deji Adeyanju and his #OurMumuDondo protesters, Yesterday held a protest to bring back Dieziani to face corruption charges in the country.
 While being asked on the motive behind the protest, The Convener of Concerned Nigerians civil society group, said 'Any Nigerian who has 5omillion in his account and cannot give a proof of how it was made should be arrested, while speaking he made reference to flamboyant Malaysian based Nigerian big boy, Hushpuppi, saying his likes should be arrested by the EFCC.
He said – 'Hushpuppi is just a 419, he flies private jets and EFCC is not doing anything about it'.